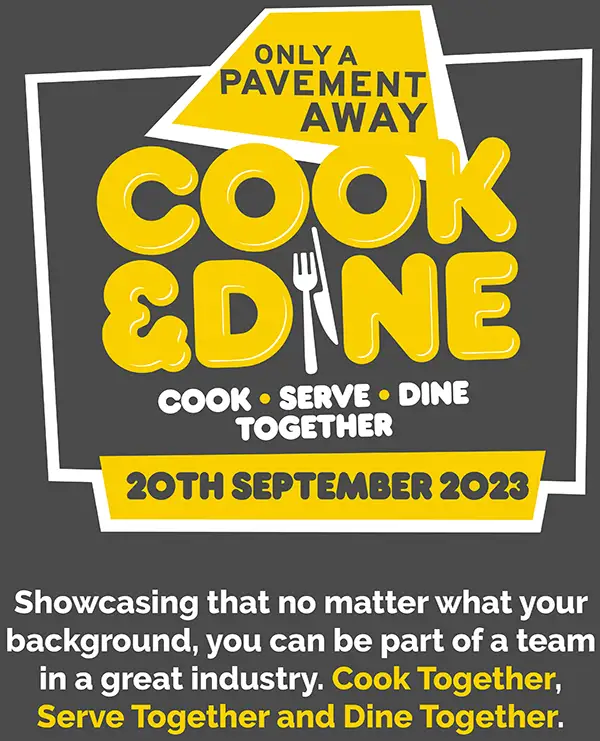 Cook & Dine is our annual fundraising lunch celebrating & showcasing all that is great about the UK's hospitality industry. The unique event brings together industry guests and volunteers from all backgrounds, experiences, and seniority levels who cook, serve and dine together!
Over the next five years it is estimated that there will be around 1.3million vacancies in the hospitality industry. At the same time, the number of people who are facing or are at risk of becoming homeless is rising. Only A Pavement Away has set out to place 1,000 people back into employment by 2024. To deliver this ambition, the charity is determined to create a fundraising structure to enable a team of 21 by end of 2023 at a cost of £878k.
We are thrilled to announce that this year's Cook & Dine held yesterday – 20th September - attended by 300 hospitality professionals smashed last year's total and raised a phenomenal £42,000!
Greg Mangham, CEO, Only A Pavement Away, said "We are delighted by the success of yesterday's Cook & Dine fundraising event, where we were once again able to come together and demonstrate the magnitude of the support from our industry dedicated to helping those facing hardships. The money raised at this year's Cook and Dine event is vital in helping us place even more people facing homeless into meaningful employment across this fantastic industry. The event served as a fantastic opportunity for us to also recognise our Ambassador Tom Aikens for his untiring support of the charity and to officially announce and appoint him as our Patron."
Our sincere thanks to all of our generous and invaluable sponsors and supporters for making the event such a success; The United Grand Lodge of England for allowing us to host the event for the 4th year in the beautiful Grade 2 listed Freemasons Hall and to our Event Partners Caterer, MAPAL and mum. Event Sponsors Mr Yum, HIT Training, Asahi and Zonal. Additionally, Cook and Dine would not have been possible without the generosity of all its supporters & suppliers, Liberty Wines, Britvic, Dennys Brands, Strand Palace Hotel, Rayners, Firebird Events, Brakes, TiPJAR, Fairfax Distillery & Chocolatiers, Paddy & Scotts, District Farmers, Smith & Brock and Woods Foodservice.
Money raised from this year's event will go towards delivering the resources needed to enable Only A Pavement Away's mission to provide pathways out of homelessness into purposeful employment within the hospitality industry. The fantastic impact these funds can make on people's lives was seen first-hand yesterday, with the first ever Deborah Moses Bursary Award being granted to Only A Pavement Away member Levi, to help him start his own food truck business.