Corporate Partnerships
.
Over the next 3 years we want to develop mutually beneficial partnerships and collaborations to create more pathways to employment and support a further 1000 people back into stable employment by 2024.
Working with Only A Pavement Away can allow your business to promote its values, inspire your staff, positively impact your reputation and increase your reach to a wider audience.
Ways to Support our Work
.
Our partners and supporters play a vital role in helping us to achieve our Mission and we would love to start a conversation with you.
We offer a range of opportunities that allow organisations to work in partnership with us and support our work throughout the year including, event and campaign specific sponsorship, employee or customer fundraising, cause related marketing, project funding or gifts in kind.
If you are interested in discussing a corporate partnership to align with your current CSR plans or are looking to develop your company's sponsorship portfolio we'd love to hear from you and discuss how we can work together. Please email fundraising@onlyapavementaway.co.uk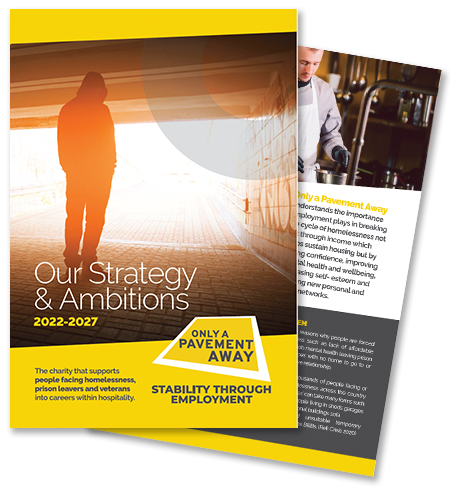 OUR AIM IS TO HELP A 1000 PEOPLE FACING HOMELESSNESS INTO EMPLOYMENT BY 2024