Hospitality Against Homelessness
.
A hand up for a brighter future
This winter, we are asking our partners, supporters and the public to join our Hospitality Against Homelessness campaign in raising vital funds to support our members and raise awareness of the positive impact we are having on the lives of people facing homelessness in finding purposeful employment in the hospitality industry.
All of the donations and financial support we receive is invaluable in helping us to create more pathways to employment. 85p of every £1 we raise, is used to maintain a robust job application process, deliver our hospitality skills training projects and when needed, enables us to provide short term financial support to members during the early stages of transitioning to a new home and starting a new job. This helps them with their with rent, travel, living expenses or important household items such as fridges, cookers.
WAYS TO GET INVOLVED THIS WINTER
.
From quiz nights to raffles, sweepstakes, cakes bakes and Christmas carolling there are so many ways to have some fun and raise much needed funds for Only A Pavement Away this winter! Keep it simple and choose a fundraising mechanic that works for your business and your team.
Halloween, Football World Cup and Christmas are all on the horizon - so you can plan your fundraising event as big or small as you like, a barbecue in the garden, special lunch service, or a bottomless brunch. Donate the proceeds to the campaign.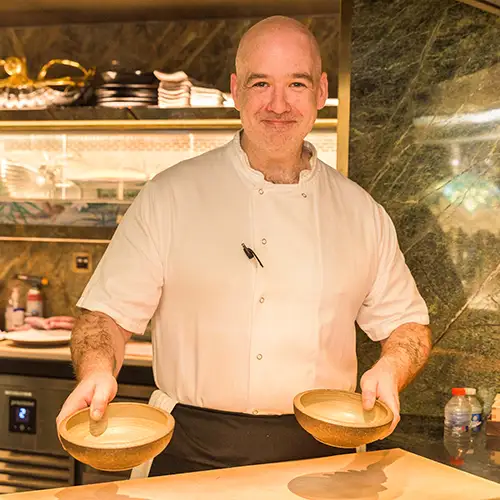 MEET OUR MEMBER, PAUL
.
Paul, found a pathway out of homelessness through the Only A Pavement Away employment programme, and now works as a Goods Receiver at The Ivy Asia in Chelsea. He says,"Since Only A Pavement Away helped me back into full time employment, I've got money, I am able to pay my bills, buy myself clothing, and have found myself a place to live. My life is very stable and secure now which it had not been for a very long time. With help from the charity, I have gained so much confidence and can finally believe in myself. Best of all I am now able to work with my biggest passion in life… food."
THE HOMELESS CRISIS:
A Homeless Crisis is unfolding. According to research from Crisis, by January 2023, 1.7m renters will be spending on average 133% of their monthly income on rent, energy & food.
HOW ONLY A PAVEMENT AWAY IS HELPING:
On Average 3 people every week now begin a proper full time job in the UK hospitality industry thanks to the work of Only a Pavement Away
WANT TO KNOW HOW WE GET PEOPLE BACK INTO WORK
?
1
The charity places a candidate onto the Only A Pavement Away Jobs Board and the employers contact them.
2
The charity then applies for the role on our free jobs board on behalf of their candidate, who must be ready to return to work.
3
The candidate stands on their own merits at the interview without sympathy shown to their background.
4
Once employed, a 12 months support network is arranged by the charity and Only A Pavement Away for the candidate.