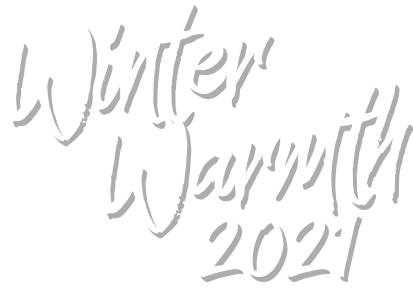 Winter Warmth will return this year even bigger and hopefully lockdown free and we look forward to seeing you all then!
Dates confirmed:
SCOTLAND 11th March
LONDON 10th November
BRIGHTON 12th November
NORWICH 19th November
MANCHESTER 24th November
GET INVOLVED
.
We are looking for donations of coats, clothes, sleeping bags & toiletries.
Despite us having to change the way in which we ran our Winter Warmth Campaign this year due to lockdown, we want to thank and pay tribute to everyone who still donated items and helped to distribute all the goods to hostels and charities for onward distribution to those in need!
With thanks to the support of our Winter Warmth Partners, Supporters and to the generosity of members of public, we were able to distribute 1500 flasks, 1500 backpacks & 1500 gloves as well as 1600 items of clothing and 23,000 food pouches across London, Brighton, Manchester and additionally Norfolk. All with an estimated value of c £93,000.
special mention also to Jonathan Childs of The Garden House Pub in Norwich who helped co-ordinate distribution of OAPA flaks and 3,000 food pouches to local charities across Norfolk including hostels, council outreach teams, soup kitchens, a veterans project and to the local Red Cross helping to support local families facing hardship due to COVID.
Being part of the winter warmth campaign has been an honour and a privilege ! We have handed flasks and food pouches out to soup kitchens, homeless hostels and veterans charities and the response has been very positive. The meals which are ambient are great for those most in need full of calories and vitamins, we distributed these meals to hostels soup kitchen a Xmas stocking appeal for the local council and we use them for our foodbank and it would be great to have more of these I fear a long hard winter is on its way. We also gave 50 the local city council too so they can really help those in most need We are but a small cog in a big wheel of kindness we are like the quarter master directing help where it is needed working with the local authorities the local charity's and helping many people – So that's a great big thank you from Norwich and Yarmouth to the Only A Pavement Away team!

Jonathon Childs

Manager, The Garden House Pub, Norwich
I just wanted to send a big thank you from the residents of YMCANL for the puffer jackets. We handed them out today and they all went within 30 minutes. Please feel free to send us some more if you have any. It was the perfect thing now that the weather has suddenly turned cold.

Lucy Brotherston

YMCA North London
WITH HUGE THANKS TO OUR GENEROUS CAMPAIGN SUPPORTERS
.
SUPPORTERS
.
Tempt Marketing, Bums on Seats, Mojo Bar, Greene King, Gaucho's, Red Mist, Leisure, On-Trade Consulting, The Table, Big Hug Brewing, Leisure Jobs, Hilton Metropole Brighton, Paul Pavli Consultancy, Inspirational Group, UKH, SRSL, Mum, Black Arts, House of St Barnabas, Fabulous Fan Fayre, Hush, Ivy Collection, Strand Palace Hotel, Sheraton Hotel, Qoot, Ben Stackhouse, The Table Cookery School, The Garden House, Craft Union Pub Co, Street Support Network, Barnabus Manchester
Food Pouches c/o Vestey Foods @ c£66000
Items of clothing @ c£10500
Pairs of new gloves c/o of Top Golf @ c£2400
Pairs of new gloves c/o Twisper @ c£4500
Pieces of cutlery @ £14250